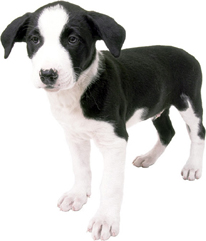 Congratulations on your new puppy! Thank you for choosing us to help protect and care for your new addition to your family.
Our puppy wellness program is designed to help get your puppy started on the right path to a long and healthy life. The first few months are a critical period in your puppy's development, and we can give you the support and tools necessary to help him or her grow into a well-mannered, healthy dog, including information and advice on nutrition, training, behavior, and socialization.
We recommend all puppies start vaccinations at 6 weeks of age, followed by boosters every 3 weeks until at least 15 weeks old. Your puppy should be vaccinated for rabies at 12 weeks. At this time, the veterinarian may recommend additional vaccinations including, but not limited to Leptospirosis, Bordetella (Kennel Cough) and Canine Influenza (Flu). We highly recommend examinations at each of the 3 week intervals to closely monitor your puppy's development as well as to answer any questions you may have during this time. With each puppy exam, we offer a complimentary fecal examination. Your puppy will be provided a free sample dose of heartworm preventative at 12 weeks of age. We recommend you start your new puppy on monthly heartworm preventative by their final puppy exam at 15 weeks of age. All puppies should be tested for heartworms after 6 months of age. Heartworm Disease is easily preventable. Our veterinary staff will be glad to offer you the latest in preventative options, providing details for each type to help you decide what will best for you and your new pup!
Schedule your puppy for his or her first exam as soon as possible. Until your puppy has received a series of vaccines, he or she is susceptible to many serious but preventable diseases. We will make sure your new dog is protected against rabies, distemper, and parvovirus, among other diseases. Your puppy will also need to be tested and treated for parasites, which are extremely common in young dogs.
We look forward to meeting your new puppy! Schedule your appointment today.